Wirtschaftsingenieurwesen
About us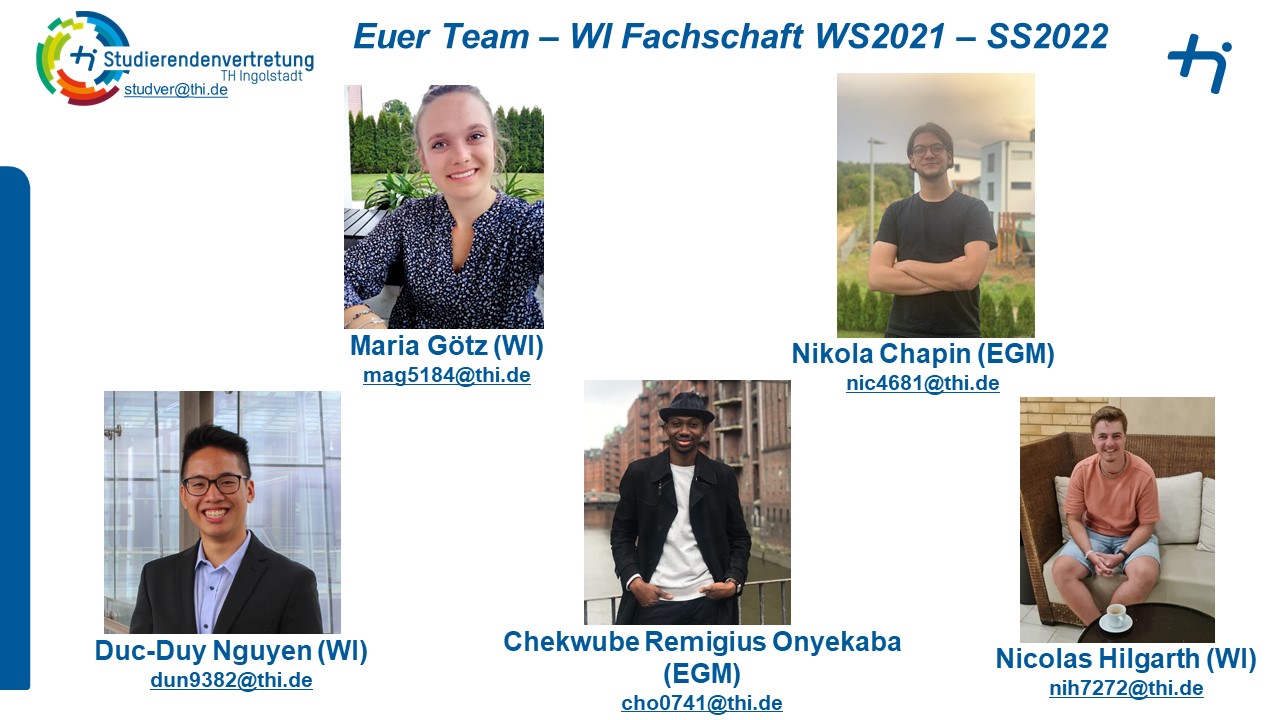 We are Maria (WI), Nikola (EGM), Duy (WI), Chekwube (EGM), and Nico (WI), the student representatives of WI.

We serve as the bridge that closes the gap between Students and the University management and always seek to find solutions to the challenges faced by students. Among our ongoing projects are: Participation in the appointment and employment process of the WI lecturers and assistant lecturers; promoting and furthering of the Ersti-Mentoring as well as the student learning support program. Other planned projects are joining the Verband deutscher Wirtschaftsingenieure (VWI) as well as organising student get-together forums.

We appreciate your contribution, as we enjoin everyone to freely approach us and table your ideas so that together we can ensure the progress of our faculty as well as the University. We are also currently looking for mentors for first-year students (Ersti-Mentoring), semester speaker (for each study-year group), student ambassadors and student representatives for the next semester. Your membership and contribution would be greatly appreciated. Be one of us we need you.
Fachschaft WI mit den Siegern der Fachschaftsolympaide (Sommersemester 2022)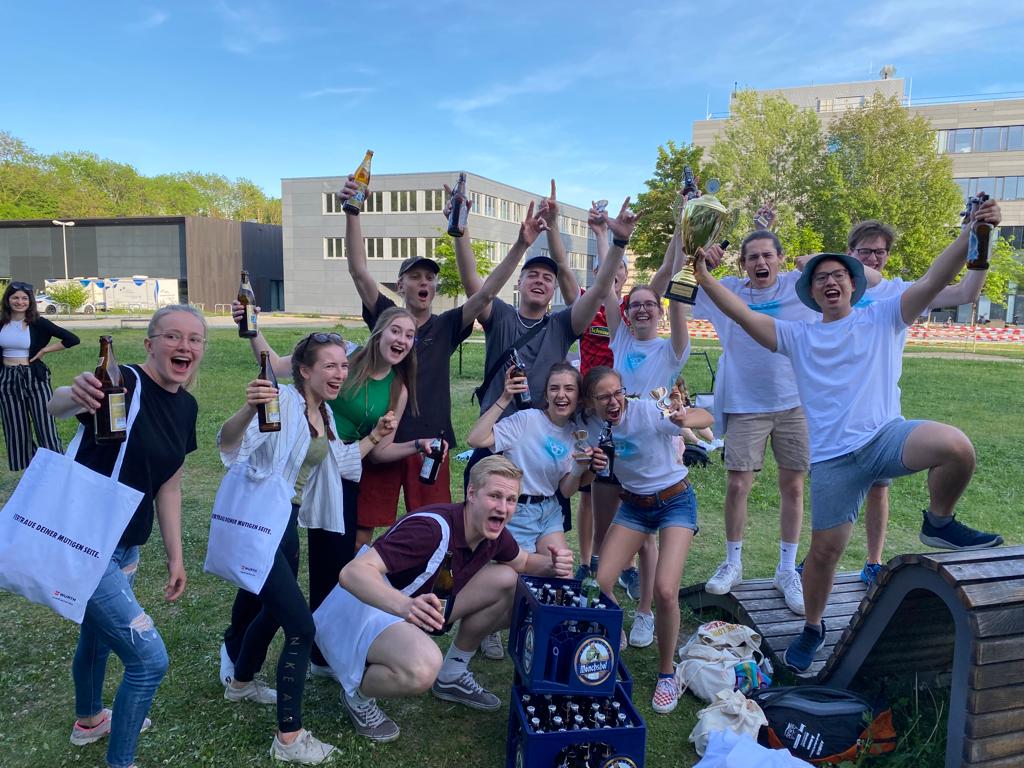 Bei der Fachschaftsolympiade konnte das Team "Schnelle Brillen" den 1. Platz für die Fakultät WI gewinnen. Die 5er Gruppe aus dem Studiengang "Technisches Design" hat mit ihren sportlichen Leistungen in den Disziplinen Bobbycar-Rennen (Fachschaft Elektrotechnik) und Kastenstapeln (Business School) überzeugen können und stellte in den Sportarten den aktuellen Weltrekord auf.
Als besondere Herausforderung für Magen und Nase überwältigten sie die Knoblauchshots der Fakultät Maschinenbau mit Bravour und glänzten auch für Fotos mit ihren selbstgemachten Shirts bei 30°C.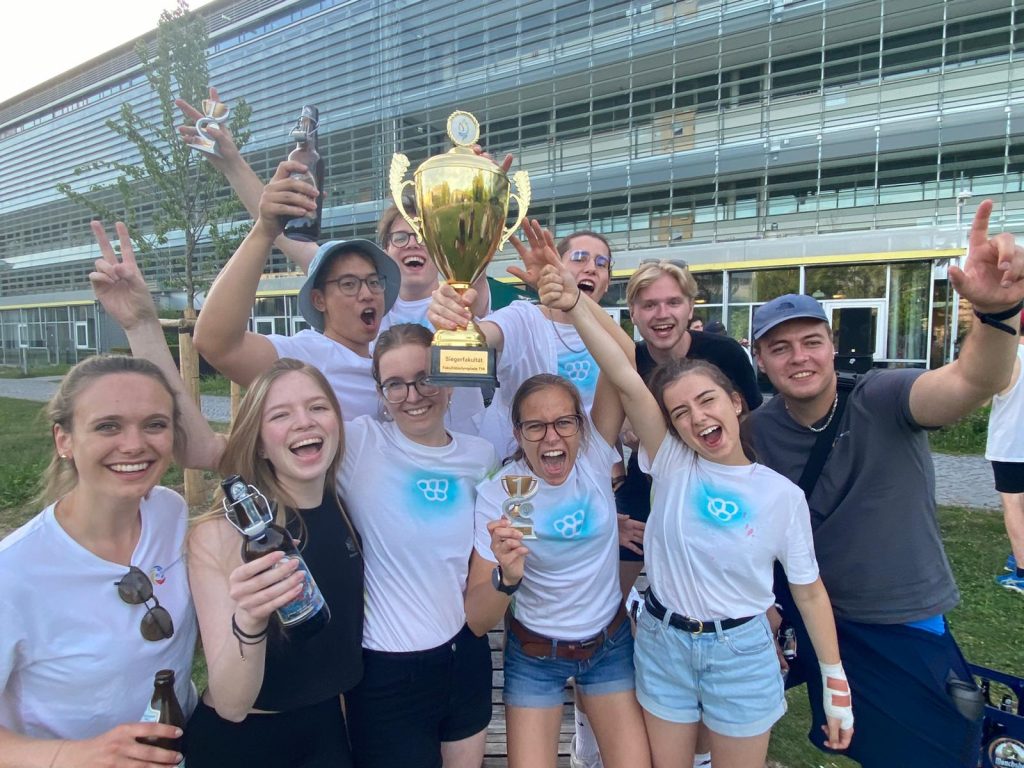 So gilt es für die anderen Fachschaften, wir werden auch im nächsten Jahr den Titel verteidigen.
~Also better try next year 😉
Vielen Dank an alle Beteiligten und Mithelfer, welche dieses Event möglich gemacht haben und man nach Corona solche Events am Campus wiederaufleben lässt. Besonderen Dank für die Organisation gilt Fabian Groß und Sir Febu Mast.
Fachschaft WI bei der Konventsitzung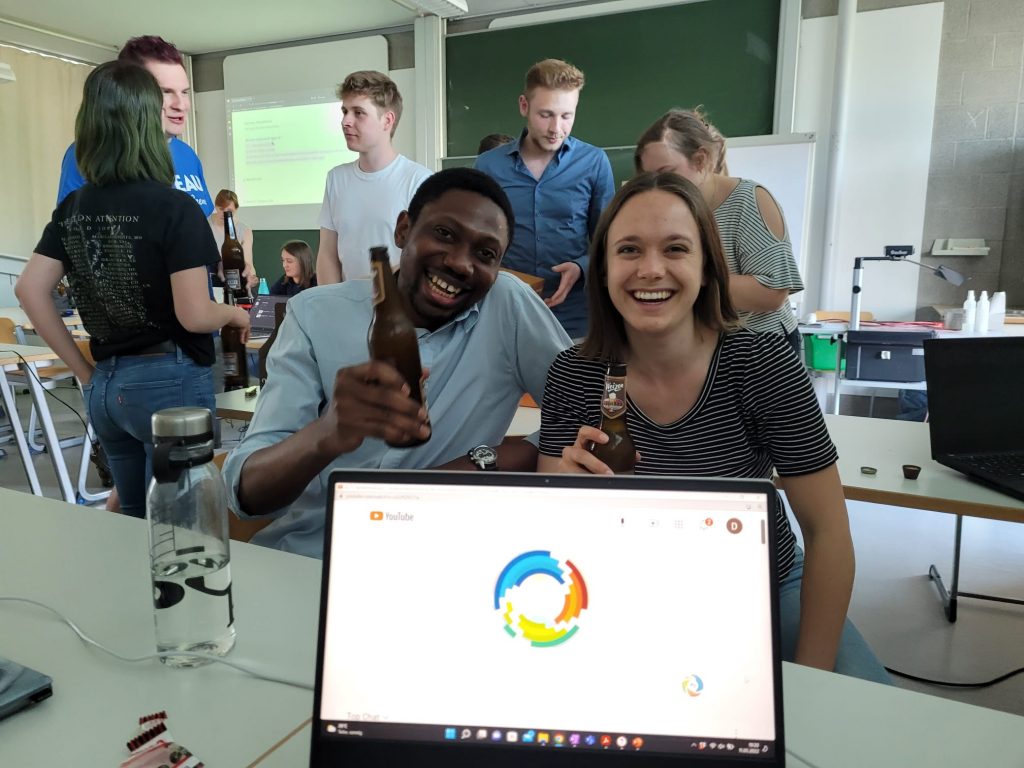 Fachschaft WI bei (einer der ersten) Fachschaftsitzungen